XRP has shown good fundamental and technical developments in the recent past. The case filed by SEC has met some hurdles and is slowly turning in favor of Ripple Labs. On the technical front, moving averages and trend lines show very lucrative opportunities for traders.
The Precedent Set by SEC vs. Commonwealth LLP Case
Recently SEC has quoted an earlier case that might turn the tide of the SEC vs. Ripple Labs. The case in consideration was filed by SEC against Commonwealth Equity Services LLC, in which SEC got what it wanted, and the defendant was denied cross-motion for summary judgment. As per SEC's opinion, this supports their stance against Ripple Labs.
The case of Commonwealth Equity Services LLC vs. SEC reached a conclusion.
A cross-motion is a motion filed against the opposite party in a court.
Ripple's Response
Ripple Labs responded swiftly, and their lawyer Michael Kellog and the team submitted a letter to the judge. The letter stated that in the Commonwealth Equity Services LLC case, the defendants did not disclose additional information in the investment contract because their paid advisor did not see it necessary.
#XRPCommunity #SECGov v. #Ripple #XRP The Ripple Defendants have filed their Response to the SEC's Letter of Supplemental Authority regarding the SEC's Motion for Summary Judgment. pic.twitter.com/SPWnzxhKxx

— James K. Filan 🇺🇸🇮🇪 (@FilanLaw) April 13, 2023
However, in the case of Ripple Labs, there was no investment contract at all. They further added that SEC used vague guidance from the Howey Test.
Here is the expanded version of the letter.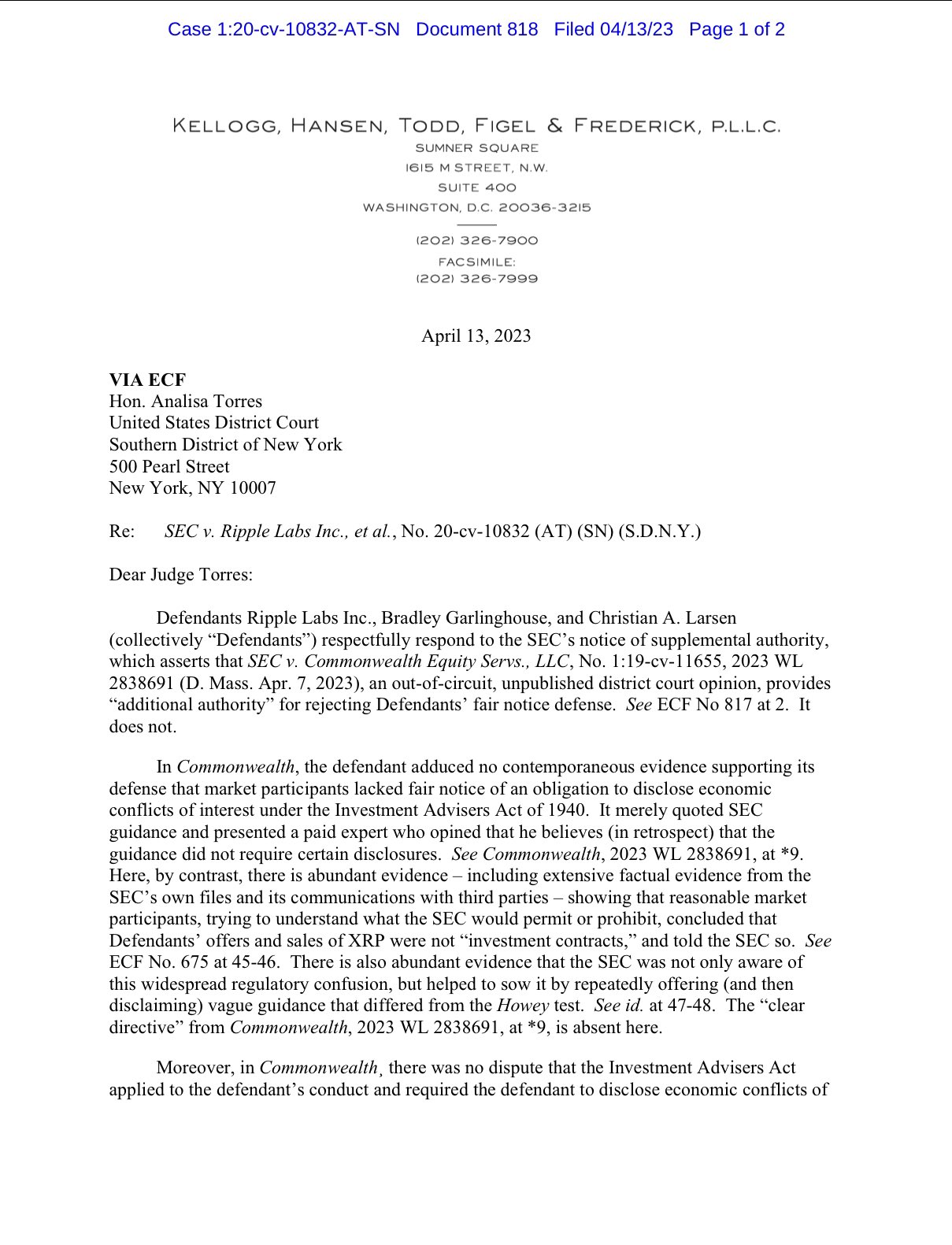 Effect on XRP Price
XRP Price gained 5% as soon as Ripple's response was made public by their lawyer Michael Kellog. The move almost broke the resistance at $0.54, which halted the prices.
XRP Price Analysis
XRP has shown a positive price action after the reply became public. It has cooled down a little after reaching $0.54 and is now at $0.52. There is a probability of $0.86 once two hurdles are crossed at $0.78 and $0.64. Let us analyze in detail with technical analysis.
Deviating from our earlier trend of only using RSI and MACD, we are now also using trend lines to identify support and resistance.
The daily charts show two resistances at $0.64(minor resistance) and $0.78 (major resistance).
Since MACD is negative at this point, we will buy only above today's day high of $0.54 or when MACD is positive. The level of $0.54 is now a clear resistance.
Above $0.54, there are two resistances, as discussed above.
Since volumes are low, it is suggested that traders take low-amount trades. Low volumes cause a very steep fall in prices once markets turn bad.
However, since the 50-day EMA is higher than 200 days EMA, the market is still bullish for XRP.
Target and Stop loss
Buy Above: $0.54
Target 1: $0.64
Target 2: $0.78
Target 3: $0.86
Stop loss: $0.46
Disclaimer: Voice Of Crypto aims to deliver accurate and up-to-date information but will not be responsible for any missing facts or inaccurate information. Cryptocurrencies are highly volatile financial assets, so research and make your own financial decisions.