As the market has finally recovered, Bitcoin and several altcoins have started posting positive gains along with the top meme coin, Shiba Inu (SHIB)
Following the crypto markets' positive momentum, whales have started to amass a large of cryptos signalling the next Bull season.
For instance, according to Whale Alert, Bitcoin Whale abruptly moves over $123,000,000 in BTC. In addition, whales are heading to meme coin SHIB as large holders have bought over $35 million in a single day.
SHIB Price Action Intensifies
As a meme coin, Shiba Inu price action can be quite unpredictable. However, due to some major developments happening in the ecosystem. The SHIB market has generally been improving, registering higher price bumps over the past few days.
Moreover, the Whales' renewed interest in the most popular canine-themed crypto pushed SHIB's price higher today. At the time of writing, Shiba Inu is changing at around $0.00001095, up 3.02%% over the last day, with a 24-hour trading volume of $691 million.
SHIB Burn Rate Soars
The Shiba Inu community has been burning tokens to reduce the supply of the meme coin and increase its value. The community's continuous efforts have led to a significant increase in the amount of SHIB being burned, triggering some positive price movements.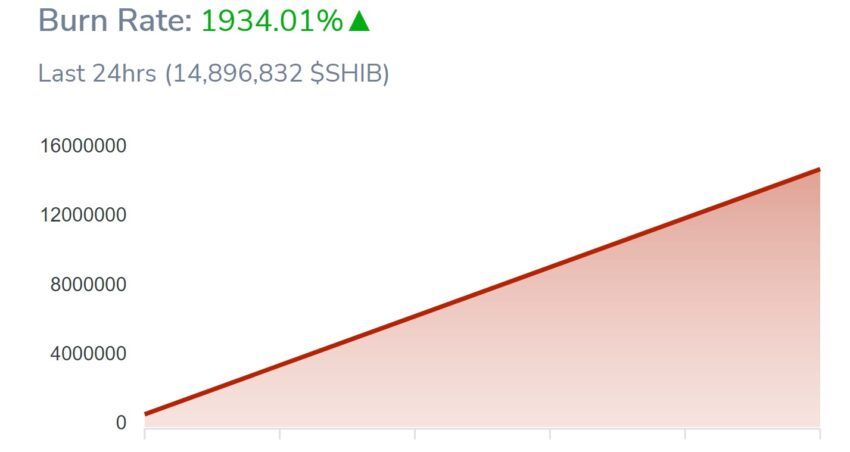 As per the SHIBBurn tracker, the SHIB burn rate has risen by a massive 1,934% in the last 24 hours. SHIB has increased in price by over 10% in the last week. The token has now crossed the $6 billion mark for the first time in nearly three weeks.
Whales Double Down On Shiba Inu
According to data from Etherscan, whales remain largely bullish on Shiba Inu. This is evident from their purchase history that these whales do not believe the reign of the meme coins has ended.
Reportedly, whales have purchased over $35 million in a single day as the SHIB price has been increasing considerably.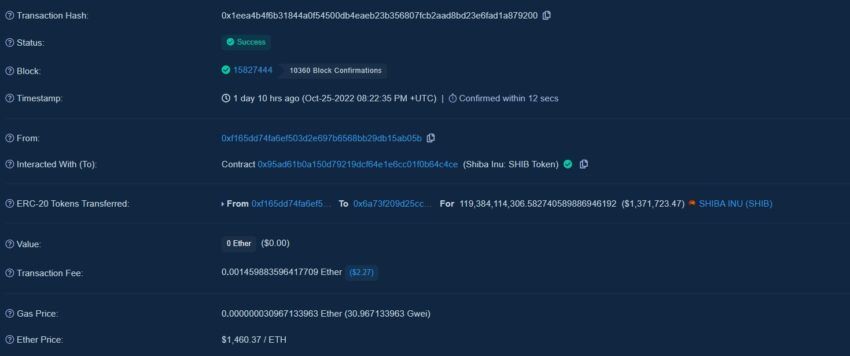 A deep-pocketed whale bought over 119.3 billion SHIB as soon as the token broke its resistance level. Another whale amassed a whopping 3.36 trillion SHIB, worth about $33.6 million. Notably, both these whales stacked in SHIB in just 24 hours.
According to WhaleStats, Shiba Inu holds the biggest position among the top 500 ETH Whales. The biggest 500 ETH Whales now collectively hold $133,187,605 ($133.18M) worth of Shiba Inu.
Interestingly whales were busy scooping up the Shiba Inu before the price surge. On Oct 24, a newly born whale accumulated over 3.6T SHIB in its first-ever transaction. In addition, on Oct 18, a mysterious whale moved over 3.38T SHIB to a new wallet.
Major Companies Now Accept Shiba Inu
Reportedly, SHIB holders will soon be able to pay for Netflix and Amazon services using SHIB. The payment feature, FCF Pay, has announced support for SHIB in its prepaid debit cards.
Precisely, users won't be paying SHIB for Netflix and Amazon directly. Rather, FCF Pay will convert the crypto asset into fiat at the point of purchase. Regarding widespread SHIB adoption, real estate brands Pacaso and Condos.com will also accept SHIB via BitPay.
Disclaimer: Voice of crypto aims to deliver accurate and up-to-date information, but it will not be responsible for any missing facts or inaccurate information. Cryptocurrencies are highly volatile financial assets, so research and make your own financial decisions.