Lately, non-fungible tokens (NFTs) and cryptocurrency have become major players in the sports industry. Fan tokens are the most addition to the market
These tokens are basically digital utility tokens that can offer fans exclusive owner perks like voting on certain management decisions. These Tokens became increasingly popular in the Covid-19 era as they offered a way of connecting with their fans and unlocking new revenue streams.
To date, many sports entities have launched their unique fan tokens. These include esports teams like OG, Team Vitality, and Endpoint CeX, football clubs like Manchester City and FC Barcelona, MMA supergiant UFC, racing leaders Formula 1, and NASCAR. 
The pioneer of fan tokens is the issuing platform Socios, a Malta-based company. Sports franchises collaborate with the Socios platform to launch a Fan Token Offering, where a finite number of such tokens are sold at a fixed price before hitting the marketplace. Buyers must convert their currency to the platform's native crypto, ChiliZ, to purchase team or league tokens on Socios.
Fan Tokens Price History
The increasing popularity of fan tokens has now garnered the attention of millions. For instance, over 2.3 million people now hold such digital assets. 
Notably, despite the bearish market, fan token prices went up 85% in the past three months, whereas the crypto market went down by 10%.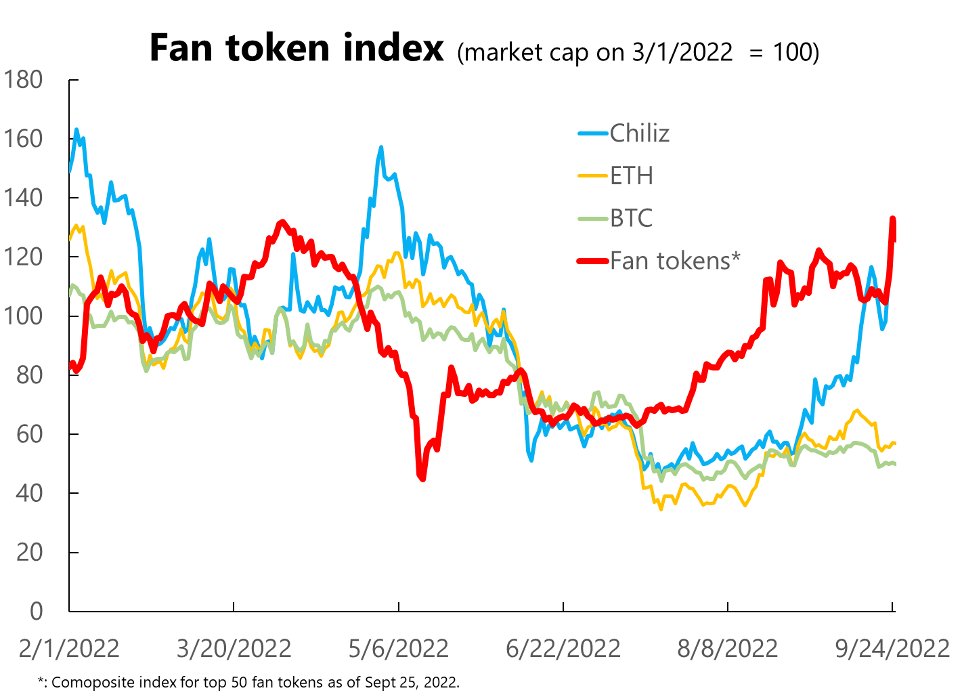 After launching in 2019, Socios has secured deals with dozens of teams and leagues, such as 28 NBA teams, fourteen in the NHL, the UFC, and a NASCAR organization. It has also committed $50 million toward its goal of creating fan tokens for teams across the five major U.S. sports leagues.
This partnership has pushed the native token, Chiliz, to witness massive price gains. Chiliz has jumped by 5% over the past week. During the past 24 hours, CHZ has declined by over 10%, priced at $0.23. Bears might probably erase the rally CHZ has made over the past seven days.
Paris Saint-Germain Fan Token (PSG), another popular fan token, gained over 9% in the last seven days. However, in the last 24 hours, it slumped by over 3%, hovering over the $8.23 level. 
Will They Outpace Top Cryptos
Despite the prolonged crypto winter, fan tokens remained green in the past seven days, raising questions like whether they are Ponzi schemes or will defeat top altcoins like ETH, BNB, SOL, and ADA.
Major bullish events like Ethereum's The Merge or Cardano's Vasil Hardfork didn't impact the broader crypto market much. The global crypto market stands at $912.97B, declining by over 5.72% in the last 24 hours.
ETH, BNB, SOL, and ADA continued to follow the bearish momentum declining by over 8%, 6%, 7%, and 9%, respectively
On the other hand, Fan tokens aren't much affected by the value of Bitcoin or Ethereum, even though Ethereum is the underlying technology. Instead, fan tokens are influenced by the club's overall value and how much fans want to engage with them this way. 
The more fan tokens you own, the more influence you have over your favorite team. And thus, the higher chance you have of earning monetary rewards.
Disclaimer: The author's comments and recommendations are solely for educational and informative purposes. They do not represent any financial or investment advice. Always DYOR  (do your own research)