Bitcoin price took a massive leap from above $19,300 to $ 20,700. It is making new higher highs compared to its past two weeks' price analysis.
Where Is Bitcoin Headed
As the general market observation goes, a further higher low is anticipated to sustain the market uptrend to rise toward the ultimate target of $22,400.
Presently, Bitcoin seems to be lying in the territory where people are still fearful, so every little bounce in the price action gets shorted.
The current bounce-off from $19,300 retested the lower high at $19,850, resulting in a continued upward move on the hourly timeframe.
Dollar Index Effect on Bitcoin prices
At this hour, an impact on Bitcoin seems to be influenced by DXY price action, as it experienced a strong bounce off from 110.
However, the DXY seems to log into the resistance zone, where it can experience a heavy price action turnaround.
Taking sneak peeks at EURO/USD charts, we can see it bouncing off from the $0.98311 level, retracing back for testing it, then getting into the resistance zone under $0.995.
Using an observational analogy, we can assume that all the other crypto assets are moving into their support zone counter-like the Euro rising in its resistance zone against the dollar.
While the current support of BTC lies at $19,500, a breakdown from which $18000 comes in the nearest support zone.
Ether Sees Relief in Bear Trends
Moving over to the Ether, this cryptocurrency is observed to be in a relief time frame visibly on the daily time frame.
The bullish momentum doesn't seem weak from insights from the daily price oscillators on the ETH. Thus, they validate the current scenario of short-term relief in this bearish trend.
Moreover, zooming into the 4H timeframe, the trend looks neutral relative to the shorter time. Highlighting the current support levels for ETH, it lies in the $1270-$1280 region.
While observing, ETH's current and potential resistance levels stand at $1370 and $1400, respectively.
Hash Rate Breaks the New Ceiling
Onchain data shows global equities battling on challenging ground; Bitcoin's hash rate emerges and defies the odds, making all-time highs.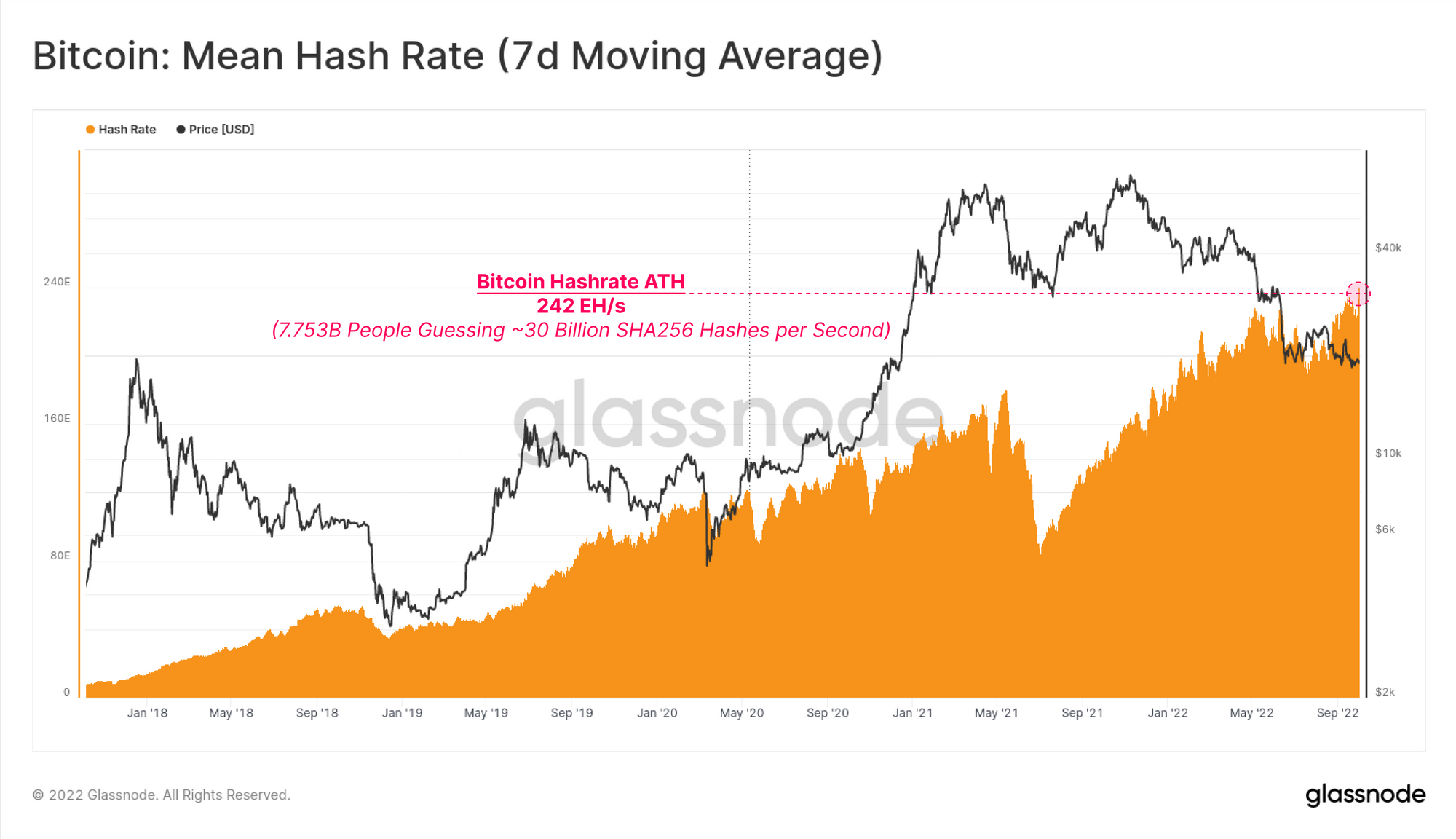 Amidst this ongoing bear market, the Bitcoin hash rate has reached an all-time high of 242 exahash per second.
The weekly newsletter of glassnode insights estimates, "To give an analogy for scale, this is equal to all 7.753 Billion people on earth, each completing an SHA-256 hash calculation approximately 30 Billion times every second. These are vast numbers".