The last 24 hours have seen Bitcoin hovering between $19,800 and $20,408 level. BTC also managed to defend  an attempt by the bears to push it back below $19,730 
As the market conditions turned favorable, bulls were determined and prevented further declines. At the time of writing, BTC's price trades at around $20,156, up some 0.8% over the past 24 hours.
Commenting on this price gain, Senior commodity strategist at Bloomberg Intelligence, Mike McGlone, states October has historically been the best month for Bitcoin (BTC) since 2014.
Is Bitcoin Digital Gold 
McGlone indicates that Bitcoin is gaining the upper hand compared with commodities and tech stocks like Tesla as the interest rates spiked globally.
In addition, the crypto strategist also notes that BTC currently has its lowest-ever volatility against the Bloomberg Commodity Index. This index tracks the price movements of global commodities (gold and crude oil) 
He notes that Bitcoin will soon be a risk-off asset, like gold and US Treasury, due to low volatility and a potential peak in commodity prices. 
The Kaiko Research also suggests that Bitcoin may soon act like "digital gold" as  BTC's correlation will reach its highest level in more than a year at +0.4, followed by a strengthening of the United States dollar as interest rates spike.
A correlation equivalent to +1.0 means that the movement between two different assets is synonymous; for instance, a 5% increase in gold would be matched by a 5% increase in Bitcoin, indicating the two assets correlate with +1.0.
BTC Whales on Buying Spree
As the market is recovering, BTC whales have started amassing the flagship token and boosting their portfolio. According to Santiment, since Tuesday last week, Bitcoin whales have added Bitcoin worth approximately $931,309,410.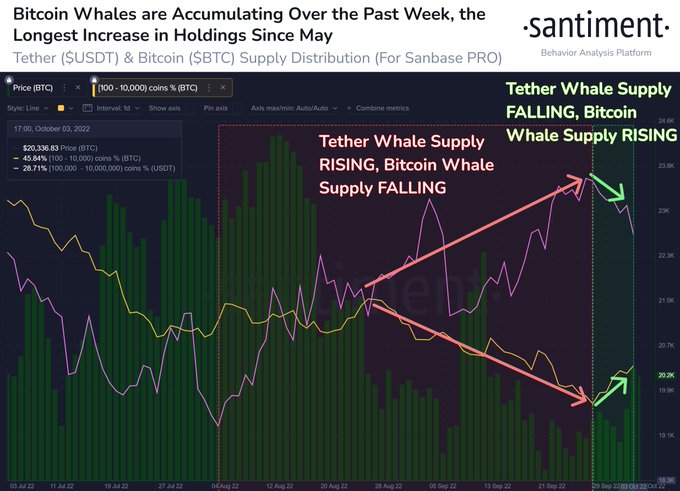 Reportedly, BTC whales holding 100 to 10,000 BTC have collectively added back 46,173 BTC back to their wallets. The platform also notes BTC supply on crypto exchanges had tumbled to levels last witnessed in November 2018.
This clearly indicates that the chances of a major sell-off risk are further reduced with less than 9% of the Bitcoin supply currently held on crypto exchanges.
Lightning Network Surpasses 5,000 BTC
Despite Bitcoin trading at a discounted rate right now, BTC's Lightning channel and node counts have also grown steadily.  
Notably, the Bitcoin Lightning Network's total capacity in public channels has crossed 5000 BTC for the first time.
More capacity on the LN network means more liquidity from which users can conduct faster payment speeds and potentially larger transaction volumes.
Market intelligence platform, Messari recently stated, LN's key metrics have steadily grown and increased by 24% and 14% YoY, respectively.
This hints that the network is moving away from a "hobbyist network" toward being a mature financial payment network.