Bitcoin has finally surpassed the $20,000 level and is currently changing hands around $20,707, with a slight increase of 0.86% across the day. 
The asset's weekly strengthening follows the bullish shift in activity and sentiments on the general crypto market, which has briefly pushed capitalization over the $1 trillion mark after six weeks of dormancy.
Whales Silently Move Bitcoin (BTC) 
According to the crypto-tracking platform Whale Alert, one Bitcoin (BTC) whale moved more than $123 million worth of crypto in a single transaction.
Precisely, a mysterious whale moved over 5,444 BTC worth more than $105 million to a second unknown wallet and 969.77 BTC worth more than $18.7 million to a third unknown wallet.
This huge transaction reportedly cost only 0.0000621 BTC, worth $1.19 when processing.
Following this, the crypto exchange FTX also moved 1,082 BTC worth more than $21.8 million to an unknown wallet. Later, the exchange also sent 1,108 BTC worth more than $22 million to a single unknown wallet.
In addition, Coinbase also sent 1,096 Bitcoin worth more than $22 million to an unknown wallet on the same day.
Bitcoin (BTC) Supply Hits Four-year Low 
As per the Crypto analytics firm Santiment, Bitcoin saw a massive surge of coins moving off of exchanges, its largest daily amount (40,572 $BTC) in 4 months.
The BTC exchange supply had reduced to a four-year low of 8.48% in the last week. Evidently, this decreased exchange supply lowers the chances of a future sell-off.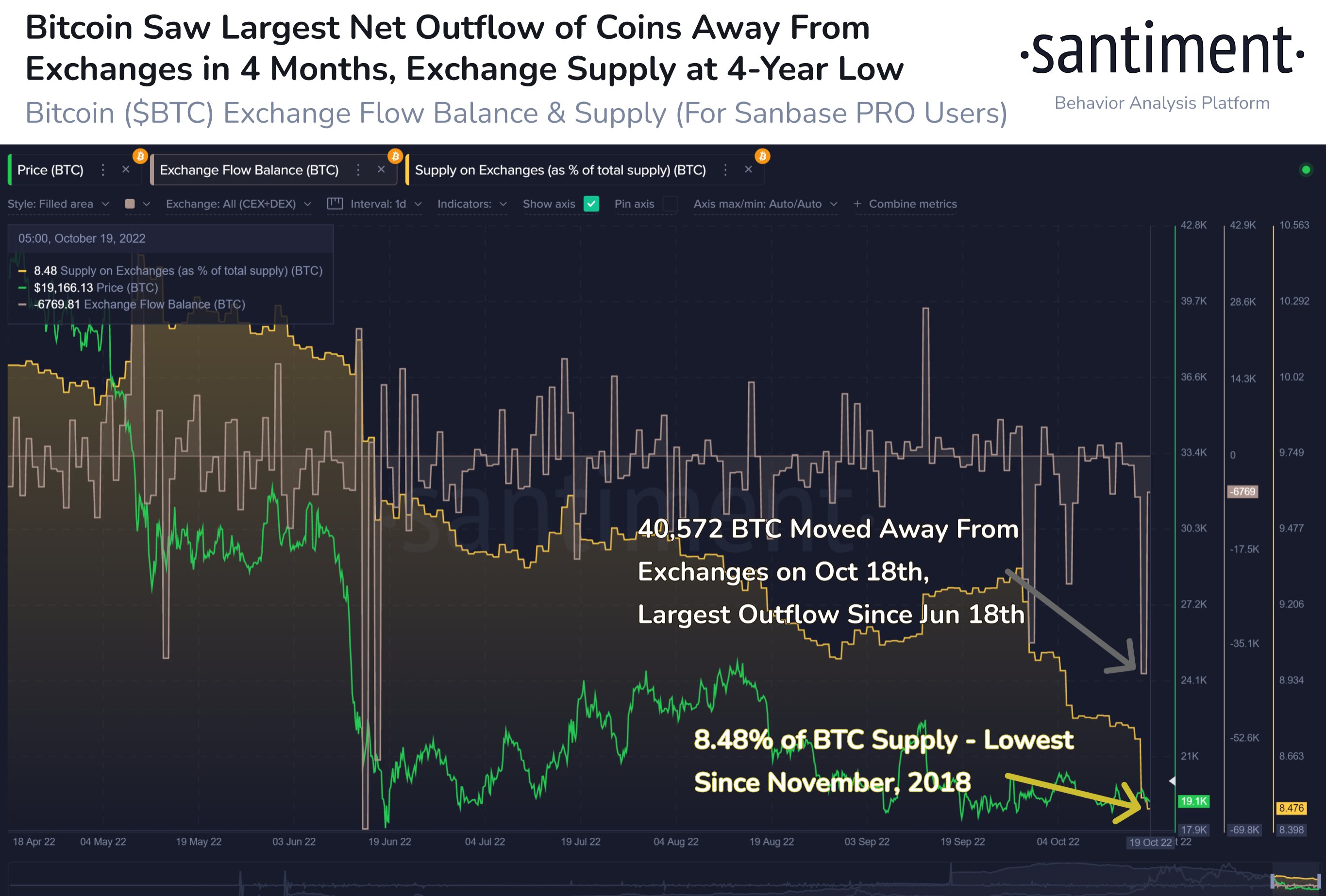 Santiment also noted that Bitcoin small to mid-sized whale addresses (holding 0.1 to 10 BTC) held 15.9% of the coin's available supply, an all-time high level.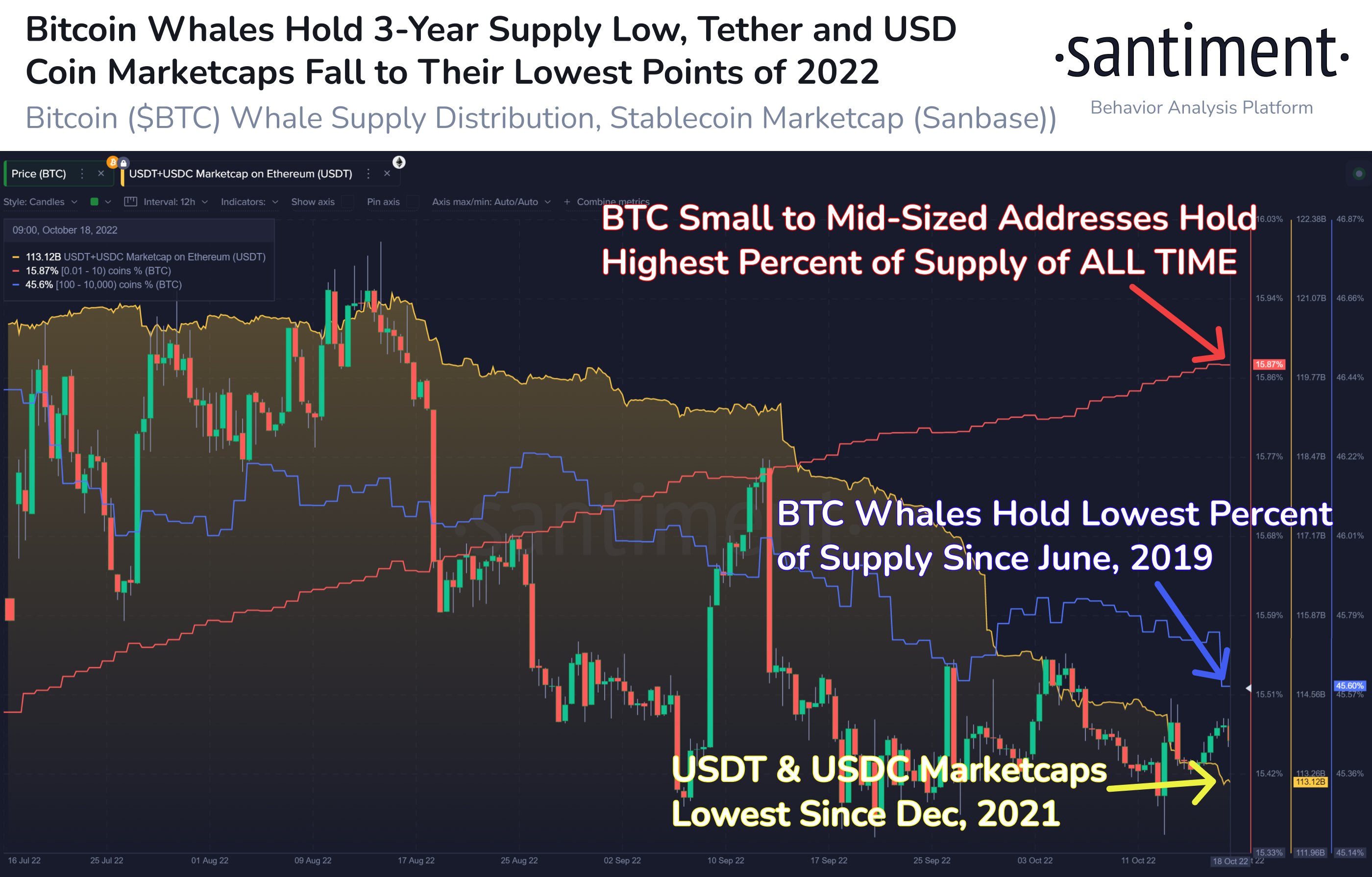 Bitcoin's Realized Price
BTC's realized price (RP) is the average buying price of all Bitcoins. Throughout all bear markets, Bitcoin has traded below its RP. If it breaks above it, the price action below that point can be treated as a deviation, meaning there's further room for a price pump. 
According to CryptoQuant, the market currently is below its realized price even though BTC has gained 7% in the last few days, and realized price, $21,107, is acting as a psychological resistance.
Spent Output Profit Ratio (SOPR) 
This metric indicates if people have sold coins at a profit or loss. A SOPR value above 1 indicates that profit booking dominated loss booking. A value below 1 indicates that loss booking dominated profit booking. 
A value of 1 means that the coins were sold at their purchase price. 
At the time of this writing, the value is slightly below 1, which means that this level will likely act as a resistance to the price moving above it.
Disclaimer: Voice of crypto aims to deliver accurate and up-to-date information, but it will not be responsible for any missing facts or inaccurate information. Cryptocurrencies are highly volatile financial assets, so research and make your own financial decisions.