As soon as the news of the Russia and Ukraine war escalation hovered over the Crypto market, the flagship crypto, Bitcoin (BTC), lost its stable momentum and started taking deep dives. 
Ever Since bitcoin fell below $20,000, investors across all spheres have taken this as an opportunity to fill their bags. This accumulation phase was not readily apparent at first, given the high volatility triggered by the FOMC meeting. 
According to the crypto analytics platform CryptoQuant, 50% of Bitcoin holders are at a loss right now, which suggests that the market is nearing a bottom. The platform also noted that the loss percentage between 40% and 50% is a "good accumulation range." 
BTC whales on Buying Spree
Bear Market bottom specifically hints at slow and steady accumulation by institutions, experienced traders, and whales.
As per the weekly on-chain analysis report by Glassnode, Bitcoin has been relatively stable in the past few days in contrast to traditional asset markets such as forex, volatile equity, and credit.
In addition, BTC was less volatile despite the central bank rate hikes, rising inflation, and a strengthing US dollar. This report also determined similarity between capitulation events and bear market rallies of 2018/2019 and the current one. 
Glassnode also reported a massive surge in Bitcoin whale withdrawals from exchanges, indicating the accumulation phase. 
Over the last few weeks, exchange outflows have been ramping up. Exchanges registered outflows of 15.7K BTC, worth over $300 million, the most significant net whale withdrawal since June.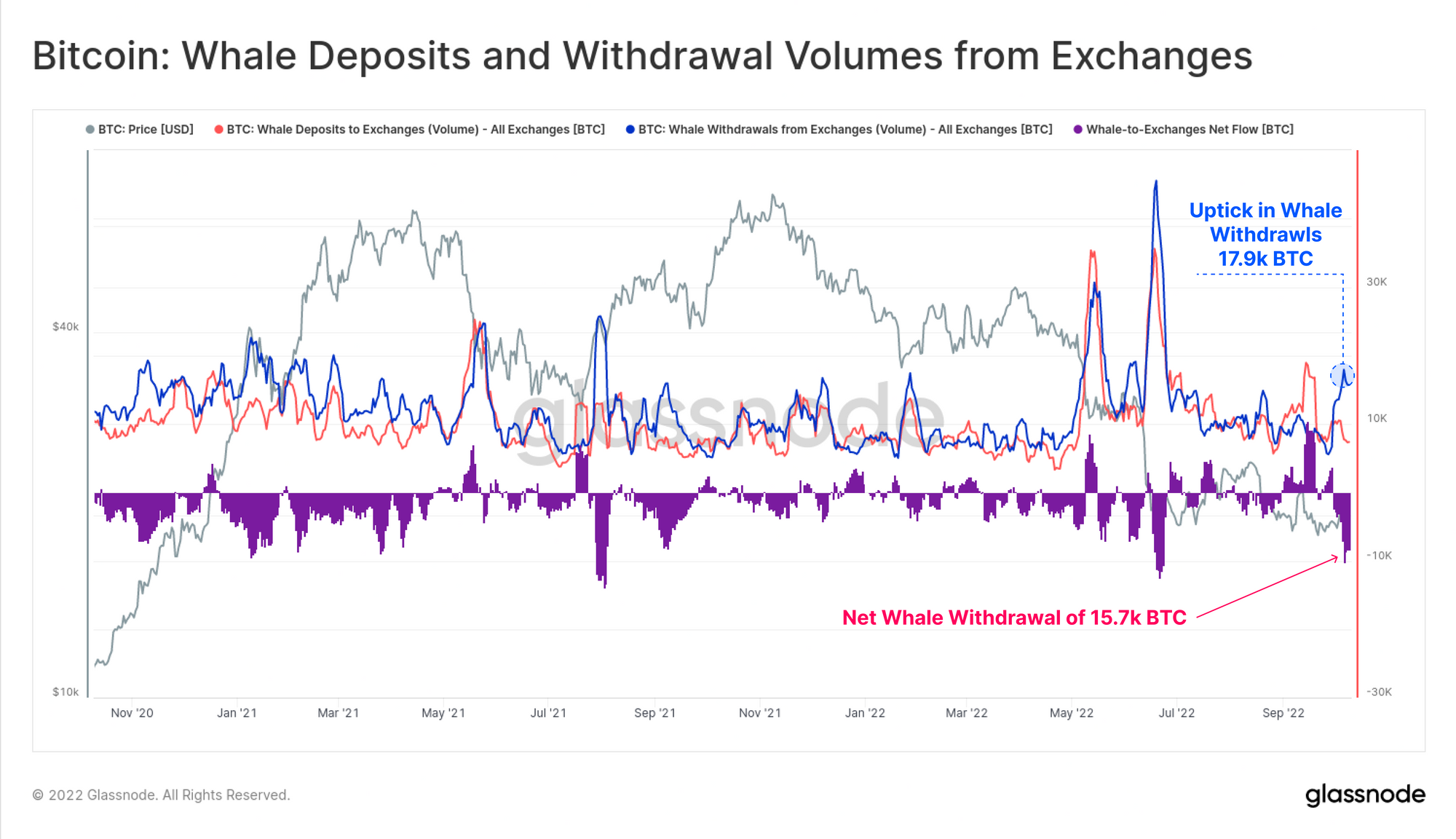 It defines a whale holding more than a thousand coins. A huge BTC whale added over 5,000 BTC to their holdings in weeks.
Accumulation Trend Score
Accumulation Trend Score determines aggregated balance change intensity of active investors (large entities) over the past 30 days.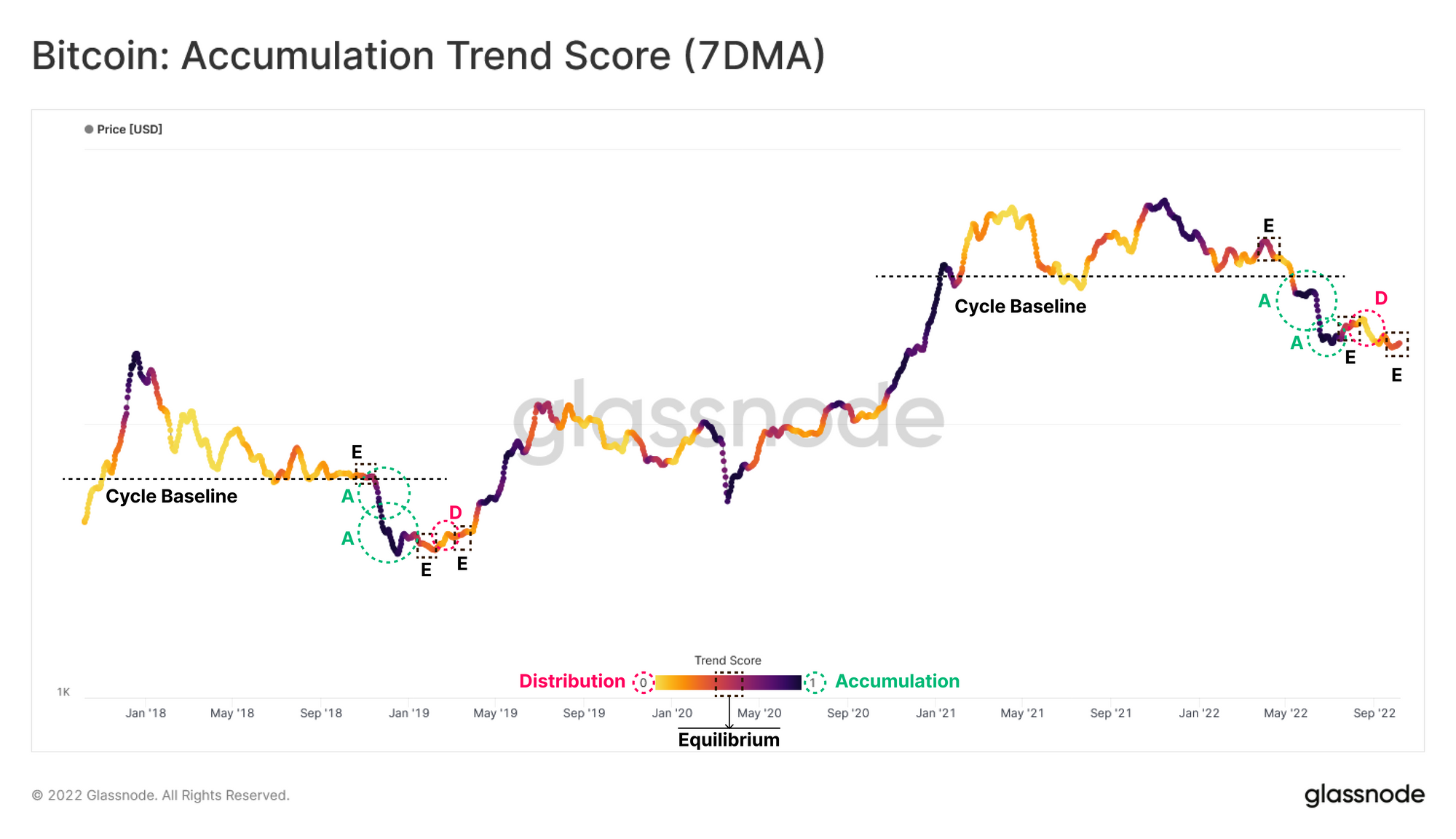 In early 2022, the accumulation trend score indicated significant accumulation by large entities, and the metric currently suggests an equilibrium (neutral) structure in the market, which remains similar to early 2019.
More BTC volatility ahead
Despite the ramping accumulation trend, it still seems that BTC investors are not wholly convinced about a bullish future for digital assets, especially in the short term. 
Many indicators suggest an incoming BTC volatility; for instance, the maiden crypto's volatility has recently dropped under 25, which is even below the Dow Jones index.
The firm also notes that, in many ways, BTC is nearing the bottom, depending on the on-chain metrics, market structure, and investor behavior patterns.
At the time of writing, Bitcoin is trading at $19,065, representing a drop of 1.18% over the last 24 hours and a 4.495% decrease across the previous seven days.
Billionaire Bullish on Bitcoin
Despite the bearish market, Billionaire hedge fund manager Paul Tudor Jones remained highly bullish on cryptocurrencies, specifically Bitcoin and Ethereum.
While speaking in an interview with CNBC, Famed Hedge Fund Manager Paul Tudor Jones stated that the value of Bitcoin and Ethereum will be "at a value much higher than where we are today."
According to Forbes, Jones' current net worth is $7.5 billion, and he also confirmed that he "always" holds a small allocation of bitcoin in his portfolio.
Disclaimer: The author's comments and recommendations are solely for educational and informative purposes. They do not represent any financial or investment advice. Always DYOR (do your own research)